Dressing Balsamiczny `Mussini Condimento Bianco Passione No.4` 250ml
W odróżnieniu od klasycznych octów balsamicznych, ten produkt stworzony jest na bazie białych winogron, i tak samo jak w przy Balsamico przechodzi kilkustopniowy proces redukcji moszczu w procesie naturalnego odparowania, #4 oznacza 4 zmiany beczek.
| | | |
| --- | --- | --- |
| Zdjęcia oraz opisy produktów stanowią warość intelektualną właściciela strony i są prawnie chronione. Kopiowanie całości lub części, jak również powielanie zdjęć będzie traktowane jako kradzież i ścigana sądowo łącznie z roszczeniem praw do zysków uzyskanych dzięki użyciu nielegalnie skopiowanych treści. | | Interesuje Cię zakup hurtowy prezentowanego produktu? Nasza firma jest bezpośrednim importerem, skontaktuj się z nami w celu uzyskania oferty B2B dla biznesu wyłącznie dla zarejestrowanych podmiotów gospodarczych. |
Passione to pasja do zawodu i czerpanie z wielowiekowego dziedzictwa rzemiosła octów balsamicznych z Modeny. Passione No.4, jak w przypadku złotych dukatów określa ilość stopni redukcji moszczu w procesie naturalnego odparowania. Cztery zmiany dębowych beczek nadają białym winogronom złotego koloru i przyjemnego drzewnego aromatu. Delikatniejsza kwasowość daje spory wachlarz zastosowań kulinarnych, zarówno do białych mięs, ryb, owoców morza, dressingów do wiosennych i letnich sałat, gotowanych ziemniaków i warzyw, grzybów, sushi i sashimi, past i risotto. To doskonała marynata, ale też dodatek do drinków i koktaili. Jeśli nie boisz się eksperymentów, dodaj kila kropli Passione No.4 do kieliszka Prosecco, a  odkryjesz nowy wymiar włoskiego Aperitivo.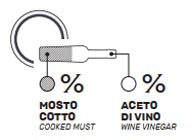 Dressing balsamiczny z Modeny o proporcji zagęszczonego moszczu winogronowego do octu winnego ~30% - 70%, kwasowości 5% oraz gęstości o współczynniku: Standard 1,10. O samym procesie produkcji octów balsamicznych Mussini oraz o systemie klasyfikacji jakości przeczytasz w naszym artykule pod osobnym linkiem. Skład: ocet winny z białych winogron, skoncentrowany moszcz winogronowy, zawiera siarczyny. Pochodzenie: Modena, Włochy. 
Origin
Check the origin of the offered product.
Methods of shipment
The store offers various forms of shipping, however, selected products may have individual restrictions that will affect the entire shopping cart.
Personal pick-up, Courier
You can collect the product personaly or you can order a door-to-door service.