Ocet Balsamiczny `Mussini Aceto Balsamico di Modena IGP Vecchio Ducato 2` 250ml
Ocet balsamiczny z dwoma złotymi dukatami, który gwarantuje doznania smakowe wysokich lotów, 6 krotny proces zmiany beczki w procesie odparowania to większa słodycz przyjemnie komponująca się z octową kwasowością. Apelacja IGP od mistrzów z Modeny.
Easy return of products within

14

days from the date of purchase without giving reasons
| | | |
| --- | --- | --- |
| Zdjęcia oraz opisy produktów stanowią warość intelektualną właściciela strony i są prawnie chronione. Kopiowanie całości lub części, jak również powielanie zdjęć będzie traktowane jako kradzież i ścigana sądowo łącznie z roszczeniem praw do zysków uzyskanych dzięki użyciu nielegalnie skopiowanych treści. | | Interesuje Cię zakup hurtowy prezentowanego produktu? Nasza firma jest bezpośrednim importerem, skontaktuj się z nami w celu uzyskania oferty B2B dla biznesu wyłącznie dla zarejestrowanych podmiotów gospodarczych. |
Doskonałej jakości ocet balsamiczny z linii Vecchio Ducato od renomowanego producenta z Modeny, Aceta Mussini `L' Arte del Balsamico`, który odznaczony jest 2 złotymi medalami (2 Moneti d'Oro) co równoznaczne jest z 6 krotnym procesem zagęszczania zawartości przez dojrzewanie, a następnie przelewanie do dębowych beczek o mniejsze objętości. Prawdziwy rarytas od rzemieślników z Modeny, którzy od wieków doskonalą swoją profesję, aby dostarczać produkty rozpoznawane i cenione na całym świecie. Apelacja IGP to gwarancja jakości, a wieloletni proces maceracji daje produkt o większej gęstości i zrównoważonym smaku słodyczy i kwasowości. Będzie idealnym dodatkiem do białych i czerwonych mięs, zarówno gotowanych, jak i pieczonych, do grillowanych warzyw, potraw jajecznych, owoców morza, makaronów z krewetkami oraz skorupiaków.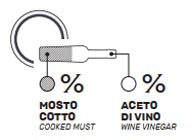 Ocet balsamiczny z Modeny o proporcji zagęszczonego moszczu winogronowego do octu winnego ~35% - 65%, kwasowości 6% oraz gęstości o współczynniku 1,17. O samym procesie produkcji octów balsamicznych Mussini oraz o systemie klasyfikacji jakości przeczytasz w naszym artykule pod osobnym linkiem. Skład: gotowany moszcz winogronowy, ocet winny, zawiera siarczyny. Pochodzenie: Modena, Włochy. 
Origin
Check the origin of the offered product.
Methods of shipment
The store offers various forms of shipping, however, selected products may have individual restrictions that will affect the entire shopping cart.
Personal pick-up, Courier
You can collect the product personaly or you can order a door-to-door service.