Ocet Balsamiczny `Mussini Aceto Balsamico di Modena IGP Vecchio Ducato 1` 250ml
Wyróżniający się jakością ocet balsamiczny z Modeny, wyprodukowany według wielowiekowych receptur lokalnych rzemieślników w procesie 3 krotnego cyklu redukowana mikstury w dębowych beczkach.
Easy return of products within

14

days from the date of purchase without giving reasons
| | | |
| --- | --- | --- |
| Zdjęcia oraz opisy produktów stanowią warość intelektualną właściciela strony i są prawnie chronione. Kopiowanie całości lub części, jak również powielanie zdjęć będzie traktowane jako kradzież i ścigana sądowo łącznie z roszczeniem praw do zysków uzyskanych dzięki użyciu nielegalnie skopiowanych treści. | | Interesuje Cię zakup hurtowy prezentowanego produktu? Nasza firma jest bezpośrednim importerem, skontaktuj się z nami w celu uzyskania oferty B2B dla biznesu wyłącznie dla zarejestrowanych podmiotów gospodarczych. |
Wyróżniającej się jakości ocet balsamiczny z linii Vecchio Ducato od renomowanego producenta z Modeny, Aceta Mussini `L' Arte del Balsamico`, który odznaczony jest 1 złotym medalem (1 Moneta d'Oro) co równoznaczne jest z 3 krotnym procesem zagęszczania zawartości przez przelewanie do dębowych beczek o mniejsze objętości. Jest to balsamico przedstawiające prawdziwą bogatą historię rzemieślników z Modeny, którzy przez stulecia doskonalili swój fach, którego efekt został zamknięty w małej, eleganckiej buteleczce. Wytworzony jedynie z zagęszczonego moszczu winogronowego oraz octu winnego z odmiany Lambrusco, il Vecchio Ducato przedstawia się w klasycznym ciemnobrązowym kolorze o trwałym i eleganckim zapachu i smaku określanym jako 'Agrodolce'. Wspaniale sprawdzi się do sałat, białych mięs, omletów, świeżych warzyw i sosów Vinegret, gotowanych ziemniaków i kompozycji ze świeżymi owocami morza.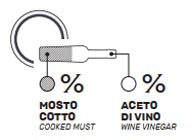 Ocet balsamiczny z Modeny o proporcji zagęszczonego moszczu winogronowego do octu winnego ~25% - 75%, kwasowości 6% oraz gęstości o współczynniku 1,13. O samym procesie produkcji octów balsamicznych Mussini oraz o systemie klasyfikacji jakości przeczytasz w naszym artykule pod osobnym linkiem. Skład: ocet winny, gotowany moszcz winogronowy, zawiera siarczyny. Pochodzenie: Modena, Włochy. 
Origin
Check the origin of the offered product.
Methods of shipment
The store offers various forms of shipping, however, selected products may have individual restrictions that will affect the entire shopping cart.
Personal pick-up, Courier
You can collect the product personaly or you can order a door-to-door service.