Ocet Balsamiczny `2 medale Famiglia Mussini Aceto Balsamico di Modena IGP` 250ml
Ocet balsamiczny od renomowanego producenta Mussini z Modeny. Linia Famiglia oraz 2 złote dukaty informujące o 6 krotnej zmianie beczek w procesie naturalnego procesu zagęszczania, dla amatorów wysokiej jakości Balsamico do codziennego stosowania.
| | | |
| --- | --- | --- |
| Zdjęcia oraz opisy produktów stanowią warość intelektualną właściciela strony i są prawnie chronione. Kopiowanie całości lub części, jak również powielanie zdjęć będzie traktowane jako kradzież i ścigana sądowo łącznie z roszczeniem praw do zysków uzyskanych dzięki użyciu nielegalnie skopiowanych treści. | | Interesuje Cię zakup hurtowy prezentowanego produktu? Nasza firma jest bezpośrednim importerem, skontaktuj się z nami w celu uzyskania oferty B2B dla biznesu wyłącznie dla zarejestrowanych podmiotów gospodarczych. |
Wysokiej jakości ocet balsamiczny z linii Famiglia Mussini od renomowanego producenta z Modeny, Aceta Mussini `L' Arte del Balsamico`, który odznaczony jest 4 złotymi medalami (2 Monety d'Oro) co równoznaczne jest z 6 krotnym procesem zagęszczania zawartości przez przelewanie do dębowych beczek o mniejsze objętości. Charakteryzuje się słodkawym smakiem o stosunkowo wysokiej kwasowości. Posiada apelację IGP i dedykowany jest koneserom czarnego złota z Modeny, którzy docenią go za naturalny, głęboki ciemnobrązowy kolor, trwały zapach i wyważony smaki pomiędzy słodyczą moszczu winogronowego i octu winnego. Jego gęstość sprawia, że będzie idealnym dodatkiem do warzyw oraz marynat mięsnych oraz ryb, sosów Vinaigrette, pieczonych lub gotowanych ziemniaków. Tak samo sprawdzi się z grillowanym stekiem, kremowymi zupami i wszelkimi daniami na bazie warzyw.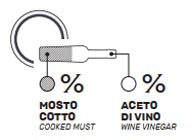 Ocet balsamiczny z Modeny o proporcji zagęszczonego moszczu winogronowego do octu winnego ~25% - 75%, kwasowości 6% oraz gęstości o współczynniku 1,17. O samym procesie produkcji octów balsamicznych Mussini oraz o systemie klasyfikacji jakości przeczytasz w naszym artykule pod osobnym linkiem. Skład: ocet winny, skoncentrowany moszcz winogronowy. gotowany moszcz winogronowy, zawiera siarczyny. Pochodzenie: Modena, Włochy. 
Origin
Check the origin of the offered product.
Methods of shipment
The store offers various forms of shipping, however, selected products may have individual restrictions that will affect the entire shopping cart.
Personal pick-up, Courier
You can collect the product personaly or you can order a door-to-door service.