Wino z Nalewaka a`la Prosecco `Glera Frizante`
Wino z nalewaka, dokładnie tak jak kupują go Włosi, musujące i pyszne Malvasia Frizante z okolic Veneto, w tym miejscu oferowane w standardowej butelce 0,75 litra. Wino jest lekkie i o stosunkowo niskiej mocy, w sam raz jako trunek stołowy.
| | | |
| --- | --- | --- |
| Zdjęcia oraz opisy produktów stanowią warość intelektualną właściciela strony i są prawnie chronione. Kopiowanie całości lub części, jak również powielanie zdjęć będzie traktowane jako kradzież i ścigana sądowo łącznie z roszczeniem praw do zysków uzyskanych dzięki użyciu nielegalnie skopiowanych treści. | | Interesuje Cię zakup hurtowy prezentowanego produktu? Nasza firma jest bezpośrednim importerem, skontaktuj się z nami w celu uzyskania oferty B2B dla biznesu wyłącznie dla zarejestrowanych podmiotów gospodarczych. |
 W naszym sklepie stacjonarnym możesz kupić musujące białe wino z nalewaka do naszej standardowej butelki o pojemności 0,75 litra, możesz też przyjść z własnym opakowaniem, dzięki czemu zaoszczędzisz na kosztach, jak również zadbasz o środowisko będąc w zgodzie z trendem Zero Waste. Twój pojemnik może być dowolnej wielkości od pół litra wzwyż, czyli jeśli chcesz, możesz pojawić się dosłownie z kanistrem i wziąć zapas na dużą imprezę, grilla, czy weekend ze znajomymi. W tym miejscu, online, zamawiając wino z nalewaka kupujesz oczywiście z naszym opakowaniem. A jeśli chodzi o jakość, to gwarantujemy jej wysokość. Długo szukaliśmy dostawcy, który zaoferuje nam prawdziwe włoskie wino, jak we Włoszech, esencjonalne, aromatyczne, a przy okazji lekkie, nadające się do konsumpcji w upalne dni. Wino po zakupie powinno być spożyte w ciągu tygodnia, a po otwarciu trzymaj le w lodówce. 
Frizante a`la Prosecco z Nalewaka 
Podróżując po Włoszech w wielu miejscach natkniesz się na winiarnie oferujące trunki z nalewaka. Nalewane prosto z beczki, jest dużo tańszą opcją zakupu, często dokładnie tego samego trunku, który znajdziesz od producenta w szkle i z etykietą, ale już parę Euro droższe. Wino z kranika jest nieodzownym towarzyszem każdego obiadu, spotkania rodzinnego, czy też ze znajomymi. Jeśli więc samemu myślisz o zakupie czegoś na niezobowiązujący wieczór, czy na spotkanie ze znajomymi, ta propozycja będzie idealna. 
Bądź w trendzie
 

Zero Waste

 

i nie generuj nowych opakowań

Moda na kupowanie produktów bez generowania odpadków, czyli bez dodatkowych opakowań trafiających potem do kosza wcale nie jest nowa. Zero-Waste, to nie tylko pusty slogan i trend wśród młodych osób. To dbałość o środowisko i świadomość tego, że pusta butelka przecież może być na nowo napełniona. W naszym sklepie on-line nie kupisz wina w swoje opakowanie, ale pamiętaj o tym, gdy będziesz u nas przy okazji osobistych zakupów.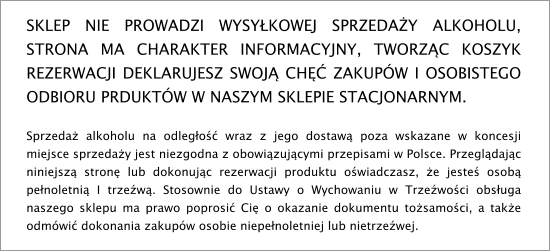 Bottle
Packaging specifications.
Methods of shipment
The store offers various forms of shipping, however, selected products may have individual restrictions that will affect the entire shopping cart.
Only personal pick-up
This product is available only for personal collection.