Likier Domowy `Wiśnia z Grappą` 250ml
Włoski likier przygotowany przez przedsiębiorstwo agroturystyczne z Toskanii według tradycyjnych domowych receptur. Najwyższej jakości wyłącznie włoskie składniki, starannie wyselekcjonowane i przygotowane z całym sercem, aby oczarować Twoje zmysły.
| | | |
| --- | --- | --- |
| Zdjęcia oraz opisy produktów stanowią warość intelektualną właściciela strony i są prawnie chronione. Kopiowanie całości lub części, jak również powielanie zdjęć będzie traktowane jako kradzież i ścigana sądowo łącznie z roszczeniem praw do zysków uzyskanych dzięki użyciu nielegalnie skopiowanych treści. | | Interesuje Cię zakup hurtowy prezentowanego produktu? Nasza firma jest bezpośrednim importerem, skontaktuj się z nami w celu uzyskania oferty B2B dla biznesu wyłącznie dla zarejestrowanych podmiotów gospodarczych. |
Likier, po który nasi klienci wracają bez względu na porę roku. Soczysta wiśnia Amarena na domowej Grappie do czysta poezja recytowana w pięknym włoskim języku. Domowe likiery to wyjątkowe dla Włoch słodkie specjały z połączenia owoców, soków, wina i destylatów. Przygotowane przez Gospodarstwo Agroturystyczne z Toskanii według tradycyjnych domowych receptur wyłącznie z wyselekcjonowanych lokalnych składników i samodzielnie sporządzanej grappy lub rumu.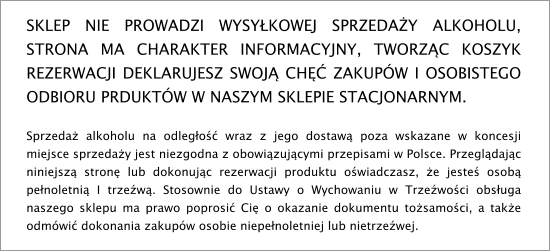 Bottle
Packaging specifications.
Origin
Check the origin of the offered product.
Methods of shipment
The store offers various forms of shipping, however, selected products may have individual restrictions that will affect the entire shopping cart.
Only personal pick-up
This product is available only for personal collection.